Does a SaaS marketing strategy differ from traditional product and service marketing plans?
The short answer is: yes.
SaaS (Software-as-a-Service) companies use and even require a different approach to marketing than most traditional businesses. Why? Because the traditional marketing approach is based on a one-time interaction with the customer. The idea is to get them to know your brand and product well enough to make a purchase, and the engagement ends there.
However, for SaaS companies, engagement with customers is a lifelong endeavor. That's because instead of having a one-time purchase business model, SaaS offers a subscription membership for ongoing access to their software product. It's essentially giving customers access to their product instead of ownership. This model helps reduce upfront capital expenditures for customers.
How do SaaS companies do marketing?
If you are a business leader at a SaaS company, you know that customer retention is vital. Although your company is likely digital-first, many traditional marketing concepts still apply. Let's dig into how SaaS companies do marketing.
Have a unique, distinct brand
A unique, distinct brand is generally beneficial for any company. Like viewing similar products side by side on store shelves, a unique brand helps a product stand out. The same is true when viewing digital products online. A unique brand can include a bold message, logo, color palette, value proposition, and more. Some companies differentiate by taking a stance on a social topic. Whether your company has a fun culture, social mission, or funky company mascot – embrace it.
Example: Mailchimp
Beware of information overload
While we often tend to think more information is better, too much information can overwhelm your customers and send them into analysis paralysis. Give them everything they need to know up front, and then direct them to some options to dive deeper.
Stay engaged with your audience
This is a big one. Back in the old days, a company's engagement with its audience ended after the purchase. However, when your customer base uses and pays for your product regularly, it's essential to engage with them continuously.
Send emails with 'pro tips' on how to use your product
Highlight cool customer stories
Celebrate employee or company milestones
Host webinars or Ask Me Anything sessions
Set clear expectations
Setting expectations may not seem like a marketing activity, but it is crucial to winning over a long-term customer. Because you want customers to stick around, they must clearly understand what your product does to ensure it will solve their problem. Unmet expectations are one of the leading causes of disappointment. Avoid it by being upfront and clear.
Make canceling easy
Here's another non-intuitive marketing tactic. Similar to how people feel nervous about making a big one-time purchase, customers don't want to get stuck in a subscription that is impossible to leave. Make canceling easy so that your audience can drop in and out if they need to. If someone has decided your product isn't working for them at the moment, the last thing you want to do is burn that bridge forever and leave a bad taste in their mouth by making the cancellation process a nightmare.
Example: SparkToro
Maintain a knowledge base
A knowledge base is a collection of resources hosted on your website that instructs customers on using your product more effectively. If your product a sales automation suite, there are likely many features that simply can't be covered in the customer onboarding process. Having a knowledge base takes that burden off your onboarding team and allows customers to investigate topics at their own pace. A knowledge base makes answers easy for customers to find, allowing them to maximize the benefit they get from your product.
Example: SEMrush
Automation
Software companies are already using tech in everything; of course, they're applying automation to their marketing! Automation can help companies plan out long, complex marketing campaigns and execute them without constantly managing them. As a business leader at a SaaS company, this means you can set triggers and reminders to work for you while you focus on other things.
SaaS Marketing Strategy
A marketing strategy for a SaaS company will likely be digital-heavy. Since the product is online, it makes sense to reach audiences when they're online, as well. However, that doesn't mean traditional advertising and marketing campaigns are wholly forgotten. Below are some of the primary activities included in a SaaS marketing strategy.
Email Marketing
"eMaiL iS dEAd" – Not! Email is alive and well and not going away anytime soon. It's become a go-to source for communication by nearly everyone and should be a part of any SaaS company's marketing plan. Through email marketing, you can continuously engage your customers or nurture your leads. While it can be difficult to stand out amongst the inbox, email is a fantastic communication channel. Remember, your emails should be interesting to the reader, not just a hard sales pitch every time they open. Instead, try some of the following:
Company history
Innovative use of your product
Customer testimonial
Celebrate company community involvement
Funny video of company culture
Behind the scenes of the product or company
SEO
Search engine optimization (SEO) means getting your website to rank higher for specific keywords and queries in search engine results pages. SEO is essential for SaaS companies that solve a clear problem ('How to track restaurant inventory?') or compete in a well-defined industry ('small business accounting software'). However, even if you bring a brand new product to market, SEO is still very beneficial. People use search engines for all sorts of queries, and getting your website to show up here will put your company on their radar. 
Here are a few of the best SEO tactics:
Posting engaging, topical content
Using keywords and keyphrases throughout your site
Building an intuitive linking structure for your website's important pages
Winning links to your website from other websites (such as news sites, directories, or trusted industry experts)
Improving the page speed and page experience of your website
Content Marketing
Content marketing creates fresh content for your audience to engage with. Whether it's for entertainment or information, creating and delivering content will get your audience to know, like, and trust your company – ultimately leading to conversions. These days, content marketing doesn't have to be mean blogging.
Check out some of these examples of content marketing ideas:
Podcast
Webinars
Newsletter
PPC and Social Ads
Pay-per-click (PPC) and social media ads inject your message and brand into where your audience is spending their time: online. The benefit of using digital marketing like this is that you can narrowly define your audience(s) and adjust your advertising budget as often as you like. For new companies offering an innovative product, PPC and social ads are a great way to ensure that you're getting in front of your target audience.
Not sure where to find an amazing Google Ads company? Hot Dog Marketing has a superstar team of digital ads experts ready to get your campaigns off the ground!
Affiliate Marketing
If your industry has micro-influencers, these make great opportunities for affiliate marketing. The internet allows these micro-influencers to build a small but dedicated fanbase. Find the micro-influencers in our industry and partner with them to offer a discount or special offer for your product. This endorsement will earn trust by proxy and put your product in front of relevant audiences. Affiliate or influencer marketing is perfect for niche products.
Co-Marketing
Co-marketing is similar to affiliate marketing, except you're partnering with another company instead of a personality. Search for a company with a similar (but not the same) audience offering a product in a different industry. Partner with them for an event (in-person or virtual), social campaign, or simply offer a discount on a product bundle. This tactic exposes your brand to more people while also converting those from your audience interested in the bundled product package.
Example: Etsy and General Assembly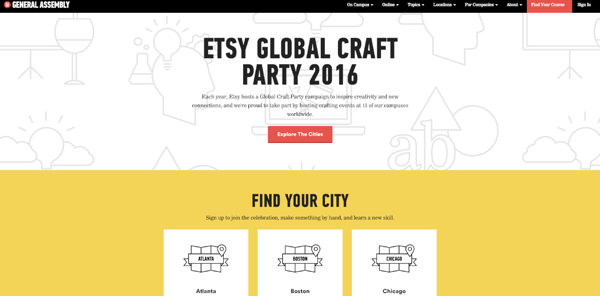 Traditional Marketing
Even in the digital age, traditional marketing still has a place. Many people still see billboards or subway ads, read their mail, watch network television, and listen to the radio. These advertising opportunities can also work for SaaS companies. Keep in mind that most people have a smart device with them nearly all the time. If they see your ad and are interested, they can open their device and navigate to your website in seconds. This type of advertising is more beneficial to SaaS companies offering a B2C product with a broad audience.
Examples of traditional advertising:
Radio
Print (newspaper, magazines)
TV
Direct mail
Outdoor (billboards, subway ads)
Event Marketing / Experience Marketing
People love experiences. They always have and they always will. Applying event marketing is a way to join people's good feelings with certain events to your product. Your company can be an event sponsor, which typically only requires some money, or host its own event. If you decide to host your event or experience, make it something that people will remember and ensure they know your company is responsible.
One creative experience I've seen is Amazon.com's Treasure Truck. Those with the Amazon Shopping app receive a notification of special deals only available for a limited time at this Treasure Truck. This combines a fun "hunt for a deal" aspect with urgency and brings the experience into the real world. On the other side of the spectrum, Roblox (a video game platform) hosted a live virtual concert for performer Lil Nas X in December of 2020. This clever event combined experience with the use of their platform.
Industry conferences
Concerts
Sports games
Community events
So much more
Build in a Referral Marketing Feature
The Clubhouse app (an audio-only forum-type social media app) scans your contacts and asks you to invite those not already on its app. While that isn't novel, Clubhouse also limits your invites (creating scarcity and urgency to use your invites) and tells you how many people your friend already knows on the app. If and when you invite your friend, you've connected them to a community of people they know. Ultimately, these are simply clever referral marketing tactics. Your customers will market for you, and conversions will (hopefully) happen more quickly because they're coming from a trusted source.
Channel Marketing
Channel marketing is like referral marketing, but instead of B2C, it's B2B. Additionally, your channel partners will likely get a portion of the revenue or a referral commission.
Know Your Metrics and Use Analytics Tools
Identify and track your key performance indicators (KPIs) as they apply to marketing. Use analytics tools to measure website traffic, email opens, ad clicks, etc. Whatever KPIs you track, ensure they align with the overall business goals. If that goal is market expansion, assess if your reach is growing to new audiences. If the goal is product expansion, dive into your search traffic and identify if your website shows up for queries relevant to your new product.
Check out these tracking tools:
Google Analytics
Google Search Console
HubSpot
Microsoft Clarity
Conclusion
There are many, many different ways to plan and execute a SaaS marketing strategy. It can be challenging to know where to start and to manage it all once it's going. We suggest using an expert marketing partner like Hot Dog Marketing to assess what tactics to pursue and execute on them. Then, you can focus on optimizing your business while we handle the marketing.
Tom Snyder is a business-minded writer creating compelling content that helps business owners understand the digital side of their business and engage with their audience. Constantly intrigued by learning new things, he is fascinated with tech, business, and sci-fi. In his spare time, you can find Tom building his own business (coffee roasting) or making music.